From Becoming Riot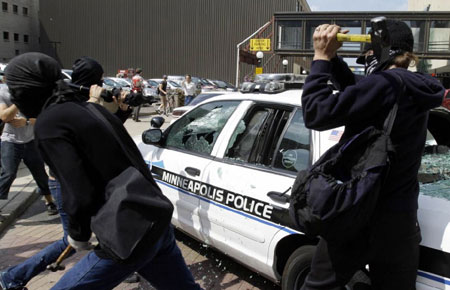 A haze still hangs over the events surrounding the first day of the RNC. What is certain: broken windows, smashed cop cars, blockades, and cops and right-wing vigilantes beaten to the ground by black-clad thugs. We took part in these events on September 1st, when at least two black blocs flooded into the streets, shutting down roadways and wrecking parts of downtown St. Paul. Such intense conflict hasn't been observed at demonstrations in the US since at least the start of the anti-war mobilizations or possibly since the mythologized Seattle black bloc. We refuse to let the actions that defined that day be erased or mystified by the media.
A large group leaves the state capitol equipped with PA systems and led by the colorful coeds of "Funk the War." The crowd walks straight into a line of bike cops; it is still weak. They are hosed in pepper spray and stripped of their dignity. We are separated from our comrades and left to wander the surreal territories of a city where the state has materialized. Every block a squad of riot cops —some tense and shaking, others confused and afraid. We find our friends; we are powerful again. Soon after, a black bloc emerges from the crowd, ready to unleash its hate. With physical barriers present we continue to move –within the confines we find mobility.
It's been far too long since the black mask has corresponded to rioting in this country. Our tried and true tactic, our insidious uniform, has been co-opted by capital, regurgitated as a mere fashion symbol. Something for today's disempowered youth to splay across the internet in their false communities as a false declaration of rage. That day when our festive button down shirts disappeared to reveal the classic team color of the anti-everything squad, the kid's eyes blinked in confusion. The black mask is not something to play dress up in. To take back the mask means to actualize our desires, blood and glass and a street filled with us.
A hammer cracks two windows, and a good citizen dashes from the sidewalk in pursuit. He grabs the young man with his right hand, a "Let Our Soldiers Win!" sign in the other. He wants to be a cop, a hero, but he's made a mistake. This isn't a peace march; this is the thrashing body of a wrecking machine. The man is rushed from behind, knocking him off balance just long enough for someone to slide their arms around him. He receives a swift kick to the side, and his do-gooder momentum is redirected into the pavement, dropping him like a dead weight.
There are those who speak of property damage as a tactic, as an implement in the activist's toolbox. We are not among them. They'd like to coerce us into this utilitarian relationship through the edifice of politics; we'd prefer not to. The rioting on Monday, despite its limitations, materialized our inclinations as exploited and alienated individuals to gouge at the eyes of both capital and politics. We make these attacks because we wish to improve our conditions immediately and to do so in way that violates the peace treaty signed by the managers of politics.
Our joy and malice intertwine as another crowd fuses with us and becomes-rioting. Desire moves our appendages, and objects are released through the imaginary field constructed between law and order. Someone runs on top of a moving police car and exposes that the state too is made of sinew and fiber. In moments a lonely police car is located, and with force a body stomps a perfect "pop" through its windshield. Each of us sheds our polite veneer, and we reveal the social conflict that is the shared experience of our conditions.
We stress that no one has felt a comparable pleasure in America in the last five years. No amount of bodily fluid, mixed with syzurp, swirled together to the sound of Lil' Wayne's "A Milli" could concentrate the joy felt when stones collapsed bank windows. Ecstasy was the vandalized cop car. Music was the hissing tire punctures. Glee was the foot inserted into the gendarme's paunch. Like we freed our companions from the police's grip, our collective force will rip words from restrictive reference. From here on, beauty, decadence, and orgy can only connote immediate destruction.
The management of Funk the War begins to recognize our intentions of commandeering their decomposing endeavor. Our momentum necessarily severs from any objectives outlined in any spokes council. Aspiring bureaucrats shed tears for their failure to regulate, and the politics of impotency reveals an impotency of politics. With unabashed sincerity and intensity, the dead weight is cast aside, holding only its precarious career and a falsified notion of failure within its palms. The corpse of activism begs for rejuvenation, but to no avail.
The blockades were never enough for us, and judging them solely on their own terms, they were a failure. The delegates weren't blocked and the convention occurred with little disruption. But to even accept the goal of shutting down the convention requires accepting the discourse of power the RNC itself represents. It is a gathering of figureheads, nothing more. It is not a strike against the heart of the system; at best it is a site where we can manifest social war. The overt objective of the mobilization was always a bit banal, and luckily most saw through this thin veneer and prepared for street conflict instead.
Cameras surround us on all sides, independent, corporate, freelance, whatever. They're all there, snapping away, reducing beautiful moments to trite representations for use by the police or for sale to newspapers and magazines. The joy of vicarious violence is what they seek, either for their own careers or for the public they sedate. After broken windows, smashed cars, and burning residue, like lapdogs they ask, "But what do you want?" The media finds us interesting, but we find them disgusting.
What those in a protest march want: a clear message, written on signs, to be transmitted to the media, which then represents it to the public vis-à-vis the news. What those in a blockade want: a collective message, performed through an action, captured by the media, which then represents it to the public. In both these cases, whether they are symbolic or concrete actions, whether the medium is the transparent screen or whether it is the message itself, the logic of the media is unquestioned. The media is but one weapon in the democratic arsenal of repression. It promises us the ability to "get the message out," to communicate. But this is an illusion. Stuck somewhere between clips from Iraq, quirky news anchors, and human interest stories, our "message" lingers momentarily as merely another piece of information to form an opinion about. To act as a social force in the street is not to give the media a clear message, rather it is to purposefully disrupt the chain of messaging that is embodied in the protest-media-audience script. Our message is a code hidden within our form, pressed against the media itself, subverting its smooth capture of our desires. We have neither words nor deeds to be represented, only representations themselves to be corrupted. When the medium destroys the message, our message can only work by destroying its medium.
One lone cop, albeit a large one, has the gall to grab one of us. One of them and fifty of us. After countless experiences of being on the defensive at demonstrations or simply on the streets of our hometowns, we will take advantage of any opening we find. A hooligan sneaks up behind the cop catching him with a well-placed kick between the legs and runs back into the loving arms of the mob. As the cop releases a shower of pepper spray into the crowd, another person surges forth, body checking the cop with a flying leap. The pig hits the ground, and our comrade is freed.
Our milieu has always found ways to provide material and legal support for comrades imprisoned by the state. Support in this manner is always commendable, but by itself fails to capture the true nature of solidarity. This is because solidarity cannot be narrowly defined within the legal sphere. When any comrade in struggle is arrested, their capture must be seen as a strategy of state repression to inhibit the wide scope of social revolution. Thus, the closer we come to complete societal transformation, the more the state will use draconian laws, like anti-terrorism legislation, to imprison us all. The only way to break this violent cycle is to continue our jailed comrade's struggle to its end. Hence, solidarity means attack, attacking every vestige of the system that collaborated to lock our friends behind bars. These attacks are to continue until everyone is liberated from their cages, whether cubicle or cell. From this perspective, providing the sledgehammers to turn banks into debris is equivalent to filling a commissary with chainsaws for penitentiary revolt. Just like the greatest possible gift to a friend is the destruction of all authority, the best support for a comrade in jail is the destruction of every prison.
On Monday, we catapulted off of expensive cars that propelled us through department store windows. When we finally landed, sneakers-first onto a police officer's frown, the state's precautionary plans were overturned like the dumpsters that crowded the streets of St. Paul. We aren't passive victims, nor are their tactics surprising to us. The forces of order prepared quite well for this engagement, arming themselves with every technique at their disposal. The state of exception came to bear as the National Guard was deployed to work in tandem with the police, guarding the jail and attacking demonstrators. But naked force was also complemented by juridical repression. The "conspiracy to riot in furtherance of terrorism" charges are no haphazard application or abuse of the law; they are its logical extension.
Many would like to use the events of September 1st to gain credibility for or to invigorate their historical reenactivist societies, be it recreating the '60s or the anti-globalization protests. It's time to bury the myths of Chicago and Seattle once and for all. The demonstration form is a suffocating cocoon from which we need to break free. We were not in St. Paul for the illusory goals some had swallowed wholesale. We don't give a fuck about a summit, but we can use it as a springboard, parasitically sucking life and leaving behind anemic remains. We were there this time because we do not yet have the force to manifest such conflict outside of the context of mass mobilizations. One of our goals is to take all of the force directed against false epicenters of power and redirect it into social conflicts that have the actual potential to disrupt the flows of this system. We are abandoning the vapid discourse of protest towards a concrete offensive in the social war. We refuse to run in circles anymore.
To my left there is a swarm of bodies destroying a police cruiser, and to my right, others completely ruining the exterior of a bank. Magically, bricks are removed from one side of the building and returned through another.