Anonymous submission to Conflict Minnesota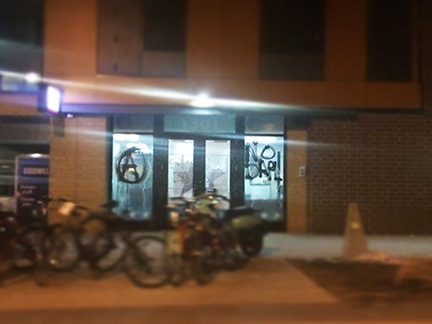 On Thursday February 9th a group of accomplices in Minneapolis took action in response to the Army Corps Of Engineers announcement granting Energy Transfer Partners the "right" to drill under Lake Oahe and complete the Dakota Access Pipeline. These accomplices targeted a National Gaurd office on the U of M Campus in Minneapolis (Stolen Anishinaabe and Dakota land).
The windows of the office were covered with graffiti reading NO DAPL, NO JUSTICE ON STOLEN LAND and other messages against the National Guard's brutalization of Red Warriors and their accomplices. Much of the resistance up to this point taken place outside of standing rock has focused primarily on banks which have funded the pipeline. These accomplices acted to expand the terrain of resistance to include the National Guard and the state in general whose physical repression has been the only thing stopping Red Warriors from defeating this pipeline.