Anonymous submission to Conflict Minnesota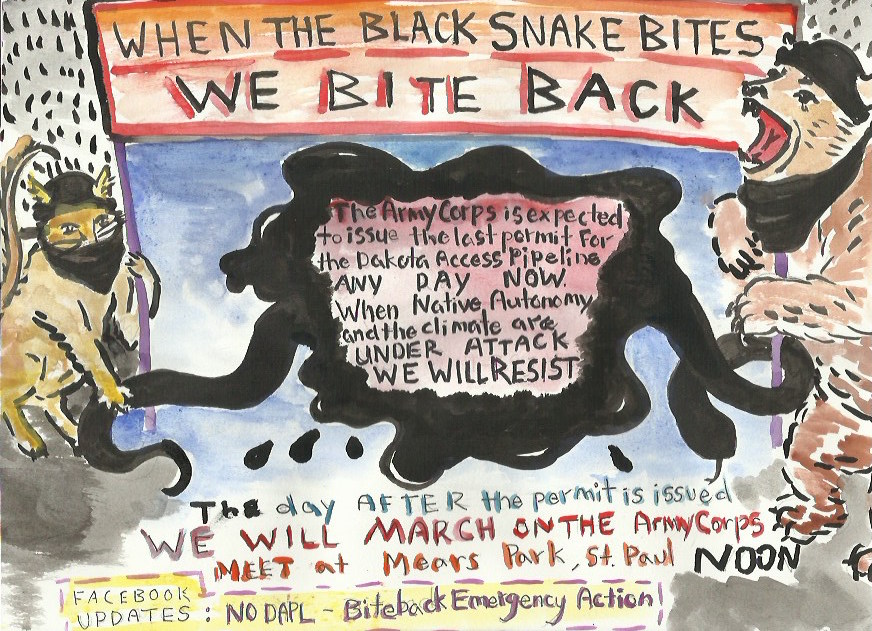 Mears Park – noon the day after the permit is granted!
When the black snake bites, we bite back! Trump has issued executive orders directing the Army Corps of Engineers to expedite the approval of the last permit needed for the Dakota Access Pipeline. This would allow tunneling under Lake Oahe and the completion of the project. We don't know when the permit will be issued, but when it does we'll be ready.
This pipeline is a modern day continuation of the genocidal project of European settlers on this continent, in which Native people and the earth are both secondary to profit. Resistance to it has meant a groundswell of Native people standing up in self defense as well as settlers questioning their role in colonization as they too defend the earth.
Companies extracting "natural resources" are global and so too must be our action. Our local resistance strengthens those on the front lines in Standing Rock. Besides the Army Corps office in St. Paul, banks that are funding this project are plentiful in this area, dozens of trains carrying crude oil from the Bakken travel through here every day, and companies invested in the project have offices nearby.
Governments and corporations have only as much power as we cede them. We are calling all who oppose colonization, patriarchy, racism, all who struggle for a habitable planet and life on our own terms to converge on Mears Park in St. Paul the day after the permit is issued. When the bloody lips of progress move to kiss, we spit fire!